---
Catherine Cashmore's Land Cycle Investor
---
Learn how to benefit from the 232-year-old 'hidden order' that predicts the markets and explains the world.
What if I told you...There is a hidden order behind ALL economic activity.
A repeating rhythm...that explains everything that happens in financial markets...
And predicts things that are going to happen in the world.
A pattern that can be traced back to the 17th century...
That you can see — as clear as day — in everything that's happening today.
The first people to notice this hidden order were able to forecast booms and busts in the economy decades ahead of time. They accurately predicted:
The two major stock market crashes of 1929–30 and 1987…
The oil crash of 1973
The market high up to March 2002 before the dotcom bust…
The recession of the early 1990s
The growth in stock prices that began in 1993…
...all before the start of the First World War.
More recently, here at Fat Tail Investment Research, we used this repeating rhythm to predict the COVID crash...and the market bounceback that followed.
Now I want to show you...
How YOU can use this 232-year-old
'hidden order' to predict market
turning points in stocks and property...
I'm launching a project that opens this mystery box to you...and reveals its secrets.
It's called Land Cycle Investor. And it's a twice-weekly dispatch of intel, explanations, and forecasts that could help you develop an investment strategy with the weight of hundreds of years of rhyming history behind it.
You won't pay a cent to learn what I want to share with you.
But the ideas you'll learn could prove incredibly valuable to you in the months and years ahead.
For example...right now, everyone is saying that stocks are headed for a huge crash...and that the property market will fall over this year...
I believe they're wrong.
According to the land cycle, stocks and property are now in the second leg of an up-cycle...where we'll see both assets hit record price levels over the next 3–4 years.
It may sound crazy.
Some people may not believe it.
They might struggle with the idea that the market could be headed up...at a time when the media, politicians, and other experts are telling you it's about to crash.
That's why I'm launching this project now. And giving you access to it for free.
I want to open your eyes and ears to this ever-present rhythm...and help you understand that...
…the timing is with you right now
My hope is, when you start reading Land Cycle Investor, you'll start to see the world — and the markets — in a different way.
You'll be exposed to a new understanding of how and why market crashes happen.
You'll grasp in detail what drives land (and house) prices higher and what ultimately makes them fall.
You'll see how major world and market events can be forecast decades in advance.
And you'll get an idea of what to look out for over the next few years.
These clear echoes from history should enable you to do some essential planning in the months ahead — in advance of the market top that the cycle is telling me will come around 2026.
Join Land Cycle Investor for free today and, over the coming weeks, you'll discover:
What, where, and when to buy to target the greatest gains the market has to offer...and also discover the properties you must avoid at all costs if you want to gain an advantage in the years ahead...
What property spruikers won't tell you about the cycle: Revealed: The main reason why the real estate boom can't go on forever, and why the economy will likely enter a recession into 2028, after the forecast peak in 2026.
How knowledge of the property cycle can help you gain an edge in the stock market: I'll show you how the cycle predicted the 1991 and 2008 recessions decades in advance...and how you can use this to your advantage when investing in the stock market.
So, what IS the land cycle?
Although the land cycle can be traced back more than 200 years, it was first 'discovered' in the 1930s by two prominent economists — Homer Hoyt and Roy Wenzlick.
In his 1933 thesis, One Hundred Years of Land Values in Chicago, Hoyt uncovered five major land value cycles that peaked and crashed in 1837, 1857, 1873, 1893, and 1926–29.
Hoyt theorised that 'The Chicago Real Estate Cycle' followed a regular sequence over and over — averaging around 18 years in duration. Take a look: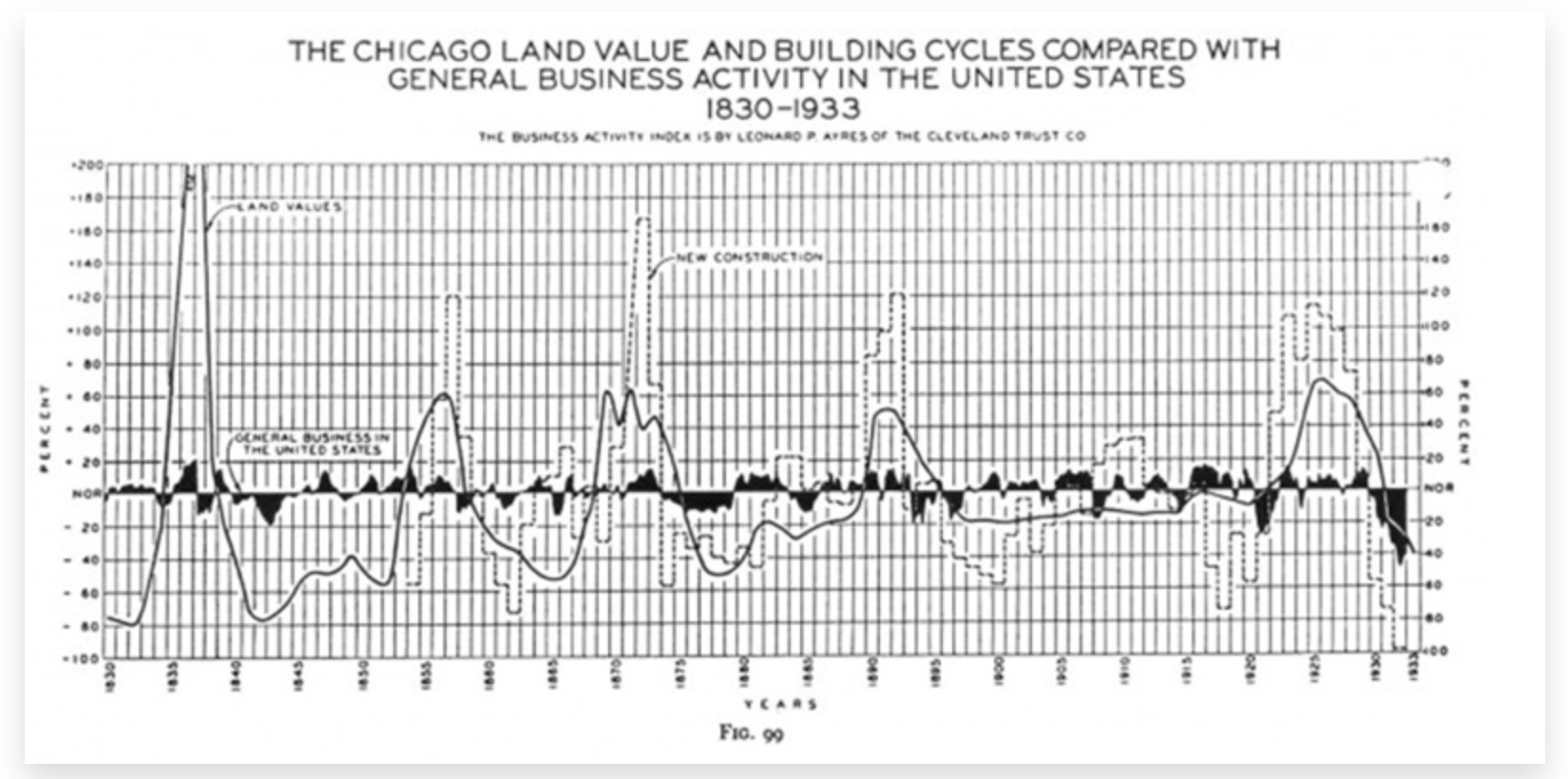 Source: One Hundred Years of Land Values in Chicago
Around the same time (1936), real estate valuer and economist Roy Wenzlick released his best seller The Coming Boom in Real Estate and What to Do About It!. In it, Wenzlick evidenced the booms of 1872, 1890, 1906, and the 1920s.
Like Hoyt, Wenzlick also concluded that the real estate cycle was a long cycle, averaging around 18 years in duration.
Take a look at one of Wenzlick's charts below, and see the regularity of this boom/bust pattern in US real estate prices: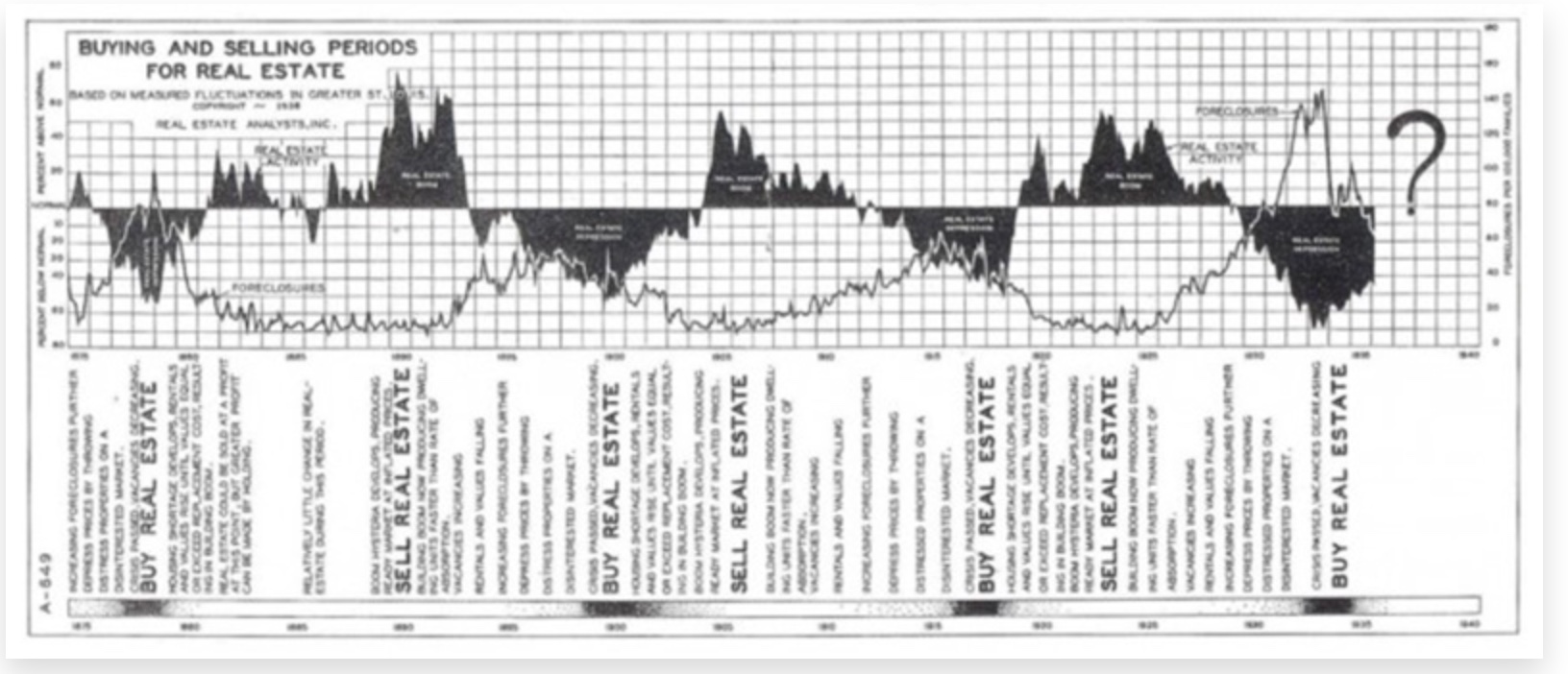 Source: One Hundred Years of Land Values in Chicago
Wenzlick's book sold more than 100,000 copies in its first year of publication.
It made The New York Times best-seller list, alongside titles such as Gone with the Wind.
When it was republished 34 years later, in January 1970, the Greater Portland Commerce described it thus:
'The Coming Boom in Real Estate, published in 1936 and reprinted in the Readers Digest, was such an accurate forecast that it was reprinted 25 years later without changing a single word.'
Hoyt and Wenzlick may have been the first to uncover an 18-year cycle as it relates to real estate.
However, their research was subsequently built upon by some economic greats.
Figures such as US economists Clarence Long, Fred Foldvary, Mason Gaffney, and, most prominent of all, UK Economist Fred Harrison, who traced the cycle back in England to the 1600s.
Fred's narrative isn't given much airtime in the mainstream.
But knowledge of this cycle enabled him to forecast the recession of 1991 — eight years before it happened.
He predicted the crash of 2008 in 1997 — 11 years before it happened.
He wrote in his book The Chaos Makers:
'By 2007 Britain and most of the other industrially advanced economies will be in the throes of frenzied activity in the land market…land prices will be near their 18-year peak…on the verge of the collapse that will presage the global depression of 2010.'
But does the cycle apply to AUSTRALIAN real estate?
And if so — how could you gain an advantage from this knowledge?
Thar's where Land Cycle Investor comes in. 
Australia synchronised with the last three land cycles.  
Trough to trough:  
The first (1955–74)
The second (1974–92)
The third (1992–2010)
We're now into the fourth consecutive cycle and, by 2028, I expect Australia to, once again, be in a land-based recession.
To help you picture it: the cycle can be characterised by around 14 years of rising land values.
There is a slowdown mid-cycle — around 6–9 years in — that doesn't affect land values significantly. (Hence why the COVID recession didn't pop the property bubble.)
At the end of the cycle, however, land prices can fall significantly for 2–4 years, and the economy invariably goes into a recession/depression.
Think of the 'subprime' crisis in 2008, or the land price collapse ('Savings and Loans' crisis) 18 years prior in 1991…and you get the idea.
Now — just think about this for a second...
What if major events in the stock and housing markets could not only be explained...
...but also predicted years in advance?
How useful would a real estate 'timetable' be to you if:
You currently rent and are saving for a deposit to buy your own place...
You're planning to sell your house, but you're worried about the market and you're not sure when to put it on the market to get the best price...
You've thought about renovating or extending your current house...or subdividing your block...and you're worried about 'overcapitalising'...
You want to acquire acreage to build a new house, and you're not quite sure how hard to negotiate at the moment...or whether to hold off...
You want to move to a new suburb...maybe find a bigger block close to a good school...or an inner-city apartment close to work, shops, cafés, and nightlife...but you think it's 'out of your price range'...
You want to help your kids or grandkids get a foot on the property ladder, but you don't want to saddle them with a giant financial burden at the worst possible time...
You're interested in building a real estate investment portfolio and starting a new business as a landlord...or a developer...
Or you missed the last boom in Australian house prices, and you don't want to miss the next one...
If any of these describe your situation, please subscribe to my free email, Land Cycle Investor.
You'll see how this prized knowledge could change how and when you buy and sell property.
It's not magic — but it appears magical in the way that it repeats.
And even though it may seem like there's some weird sorcery at play here, the real estate cycle is based, as I say, on more than 200 years' worth of actual land value data.
There's no secret behind it.
The only secret to successful property investing is timing.
Get your timing right in the property
market, and it can potentially change EVERYTHING in your life
The same is true if you get your timing wrong...
But to understand how to time the cycle to your advantage — and not have it work against you — you need to read my notes, twice a week. We're at a crucial stage for buyers and investors...a 'sweet spot' in the cycle where I believe you could benefit the most from this knowledge.
Subscribe for free today and discover:
Why brand-new apartments are the absolute worst property investments you could make...even when the market is booming...
The truth about dual income properties and granny flats. Buy one property, get two incomes. Sounds great, right? WRONG. I'll show you why it's a crock...
My analysis has identified one specific city...and three middle-ringed suburbs inside it that I believe could have some of the strongest price rises in the country between now and 2026...
Revealed: The absolute WORST time in the cycle to buy property (and why it's the time most people do!). Learn how this 'contra-indicator' could save you $$$$...not to mention a boatload of heartache...
They look gorgeous in the brochure...and have amenities galore...but these are properties that you should only ever rent and never — EVER — buy...
How to interpret breaking financial news through the lens of the cycle. Often, the cycle runs counter to what most investors are 'feeling'. This can be hard to get your head around. But I'll show you what's really news, and what's just smoke and mirrors.
To get Land Cycle Investor sent to your inbox twice a week, click here and subscribe!