---
The 125th Henry George Commemoration Dinner speech by Catherine Cashmore
---
1/03/2017
The Culture of Abundance - Political Economist Catherine Cashmore lectures on the economics of land and dead weight costs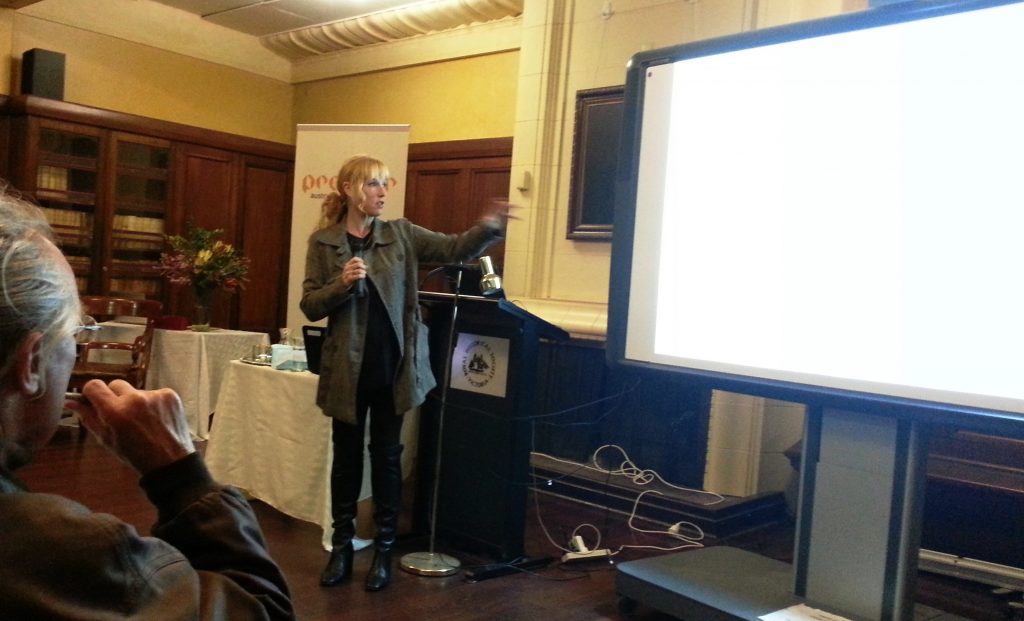 A full house turned up to hear Prosper Australia president, Catherine Cashmore, deliver her address, entitled "The Culture of Abundance" at the 125th Henry George Commemoration Dinner in Melbourne on Thursday night.
One of the best speeches for years, a good mixture of Georgists and non-Georgists heard Cashmore explain how much of Australia's abundance flows pathologically into land prices, and simply to cut taxes on labour and capital is not good enough if we're to increase our prosperity. That's because such personal savings would only exacerbate land price increases, unless we also capture a greater part of the economic rent of our land.
Some young 'newbies' who attended to hear how greater land value capture might make Australia's out-of-reach housing more affordable would not have left disappointed by information Catherine presented to those in attendance.
Bryan Kavanagh was happy to have it confirmed that his ten year-old assessment of the strangling deadweight of taxation—based on capturing at least 50% of our economic rent between 1972 and 2006—would have grown to the order of one trillion dollars by 2006, has been found to be most conservative.
Fred Harrison and Mason Gaffney, international experts on economic rent, have assessed Australia's deadweight to be currently some $320 billion per annum. That's equivalent to 19.25% of GDP – and you are entitled to your share!
So much for the incredible under-assessments of our deadweight by Australian economists!
Due to intransigence at official levels, Cashmore concluded that Prosper Australia's mission must be to educate the general public that their high land prices militate against releasing the curse of all this deadweight – this pent-up abundance and prosperity.
The energy in the room after Catherine Cashmore's address was palpable.
The EJ Craigie award for best-written article of the year was presented to LF Economics' analyst, Philip Soos showing the wealthy often to be the greatest "leaners".
EJ Craigie died in 1966 at the age of 95 years. We were privileged to have the sharp-witted George Jukes, who was a friend of 'Jack' Craigie, in attendance at the dinner, along with his daughter and son-in-law. George is 97. There must be something in the air about Georgist longevity in South Australia!
Listen to the speech 
Direct link here
Return